Cooking Stuffed Calzones With Your Toddler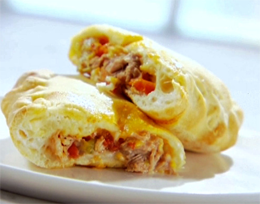 Getting your toddler interested in food (especially food that is good for them) can be an up hill struggle, but there are ways of capturing your toddlers attention.
A stuffed calzone is a great, fun alternative to pizza. Broccoli and sausage make great fillings, but you can substitute any meat or veg to make a tasty, healthy meal for your toddler.
Getting your toddler involved in the cooking process and letting them feel new foods, taste sauces etc, will really help capture their attention and will make them interested in wanting to try what they have cooked.
Serves 4 to 6 people
Ingredients of stuffed calzones
Pizza dough
Tomato sauce or tomato puree
1 1/2 cups grated cheese
1 1/2 cups chopped broccoli crowns or 1 1/2 cups sliced pre cooked sausage
How to cook stuffed calzones with your toddler
Pre heat the oven to 400º.


Make a batch of pizza dough and prepare a large baking sheet.


Divide the dough in half and make each half into an oval shape and roll out the dough so it is about 6 inches by 9 inches.


Get your toddler involved by getting them to spoon tomato sauce across the bottom of each oval. Try and encourage them to leave about an inch border around the outside (but the most important thing is they do it and enjoy getting involved in the cooking process).


Get your toddler to then sprinkle cheese and their toppings over half of each dough oval (try and divide the toppings equally).

Hint: Cut the broccoli into small pieces and the steam will cook them to perfection.



Use a fingertip to lightly moisten the entire edge of the dough with water, then fold the top over the side that's piled with toppings, matching up the edges. Pinch together the edges, making sure the layers stick.

TIP: When sealing the calzones, pinch together the edges and give them a short roll to create a roped edge.



Transfer the calzones onto the baking sheet, spacing them well apart, and use a knife to poke 3 or 4 small steam vents in the top of each one.


Bake the calzones on the centre oven rack for about 30 minutes, until dark and crusty on the top and bottom.


Slide the calzones onto a wire rack and let them cool for at least 10 to 15 minutes before slicing. Be careful the steam inside can be very hot.