Top 14 Fun Toddler Activities For A Rainy Day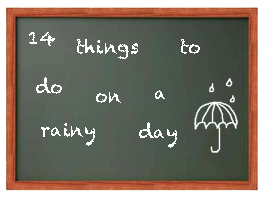 Every parent's worst nightmare is to be stuck in side on a wet, rainy day with a bored, hyperactive toddler.
Once those rain drops start falling, you know taking your toddler to the park is out of the question, so instead of your toddler climbing the walls and driving you around the bend, so if you need some help with rainy day activities, here are some great things to do on a rainy day with your toddler.
1) Play dough on a rainy day
Play dough is a great indoor activity for kids, especially on a rainy day.
Play play dough with your toddler or if you need to get some housework done, give your toddler some scenarios such as getting them to make food or animals out of the play dough.
You can also get shapes and toys to stimulate your toddler's imagination (check out play dough toys for toddlers).
Play dough is great for keeping your toddler entertained and stimulated. It also helps improve your toddler's hand eye co ordination and creative ability.
2) Indoor camping with your toddler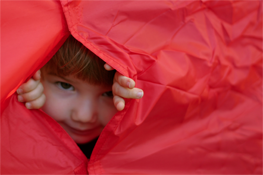 Bring the great outdoors inside by getting your toddler to help you make a tent in your front room. A great activity for a rainy day with your toddler.
Pull in some chair and put a blanket over the top to make your tent, get your toddler to melt marshmallows over the camp fire (get them to put some marshmallows on a stick and you hold it over the hob on the cooker), search for buried treasure (give your toddler clues as to where you have hidden treats for them).
Let your toddler imagination run wild, recapture your inner child, and bring the great outdoors to life.
3) Wear your toddler out on a rainy day
Get rid of some of your toddlers excess energy on a rainy day by turning up the volume on the CD player and get them dancing.
Try your toddler with some party games such as musical statues and musical bumps (even if their birthday isn't for another six months).
You could also try putting on a fitness DVD and encourage your toddler to join in and copy them (if nothing else, it will give you a good giggle).
It will help your toddler's co ordination, they will have fun and best of all; you end up with one exhausted toddler.
4) Get messy on a rainy day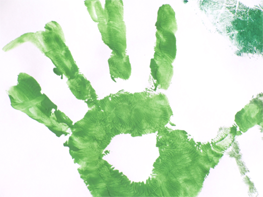 If your toddler is acting up because they are bored, what better way to entertain them then to let them get messy?
Put (lots) of newspaper down in the kitchen and lay some plain paper on top. Give your toddler some paint and sponges (I would advise removing their clothes to) and let your toddler release their inner Picasso.
If you don't fancy clearing up the mess, why not try face painting your toddler, then let them paint you after.
5) Fancy dress on a rainy day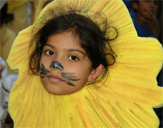 Make believe and dressing up are fun activities that your toddler will love.
Buy some old clothes from the local charity shop and let your toddler dress up. Try and get a variety of different clothes to help stimulate your toddler. Watch as your toddler's imagination runs wild as they create different scenarios and enjoy themselves.
Why not join in and see what your toddler dresses you up as? Playing with your toddler will help you bond and toddler games are great fun (who doesn't love being a big kid).
6) Indoor football on a rainy day
If your toddler is desperate to run of some of that excess energy down the local park by playing football, don't despair.
Roll up some old newspaper and let your toddler kick it round the front room (although I would advise moving any precariously placed ornaments).
Indoor football lets your toddler run around without you having to worry about having footballs in the house.
7) Bubbles for your toddler on a rainy day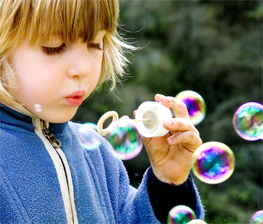 If it is raining outside, why not get the bottle of bubble mixture out.
Blowing bubbles is really great for your toddler as it helps to develop the muscles in their mouth (which helps improve toddlers speech).
Get your toddler chasing the bubbles and seeing how many they can pop, get your toddler to blow their own bubbles, get a special bubble maker that makes big bubbles or even get a bubble machine.
Your toddler will love the bubbles and they make little to no mess (an added bonus for you).
8) Bring the water inside on rainy days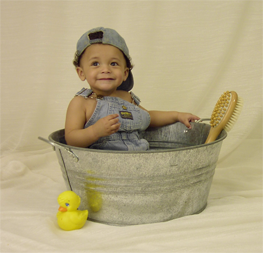 If your toddler wants to go puddle jumping in a torrential down pour, distract them with some indoor water fun.
Let your toddler stand on a chair and fill the sink with water. Give your toddler some funnels, pots, a sieve etc (what ever you can find in the cupboards) and let your toddler splash about (putting some newspaper on the floor could be a good idea as you can guarantee all the water wont stay in the sink).
9) Rainy day crafts for your toddler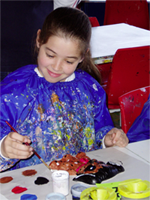 Arts and crafts are fun activities that can keep your toddler entertained for hours.
Put your toddler in front of some paper, stickers, glue, tissue paper, glitter etc and see what they come up with.
Try giving your toddler a theme (under the sea, on the moon, in the jungle etc) and let them release their artistic side.
10) Have a picnic on rainy days
Put a blanket in the middle of the floor and put out some picnic food for your toddler to eat.
Even better, get your toddler to pour things in to bowls and put them on the blanket to get them involved and capture their attention.
11) Get your toddler cooking
Rainy days give you the perfect excuse to spend some quality time with your toddler. So what better then to get them helping you to do some cooking?
You can get them to help you cook anything, it doesn't have to be all about cakes and unhealthy food. Use it as a reason to get your toddler to try cheese straws or something else they wouldn't normally try.
When you are cooking with your toddler, give them simple tasks like pouring something into a bowl (they don't have to do much, especially if they are young); your toddler just wants to feel like they are helping you out.
Also encourage your toddler to get their hands messy, (after washing them of course – few people like bogey cake) as your toddler will learn about different textures and tastes (we all know they will lick their fingers straight after).
12) Play shop on a rainy day
Playing shops is a great indoor activity for children.
Raid your cupboards for tins, packets and anything else you can find and set it up in the front room. Give your toddler some coins and a credit card (an old loyalty card) and get them to buy things from your shop. Try swapping roles and see how your toddler reacts.
You can use the pretend shop game teach your toddler about colours, counting (how many items have you brought?) or for slightly older children, get them to help you add up the prices of the items (small items cost £1, big items cost £2 etc).
13) Toddler online games
If you have some house work that desperately needs doing, why not put your toddler in front of an educational game on the computer. Websites such as CBeebies give you toddler online games that allow your toddler to play games with their favourite characters on in a safe environment.
Allowing your toddler to play games on the computer will improve their co ordination, let them have fun and may even help to produce the next Bill Gates.
14) Failing all else on a rainy day
Let your toddler sit in front of the TV. Research has shown that a small amount of TV for toddlers (30 minutes for under 2's, 1 hour for over 2's) can actually help your toddler's development.
It doesn't have to be children's programmes either, try putting your toddler in front of an animal documentary on the wildlife channel and see how they react.
If you can, watch the programme with your toddler, then discuss what happened afterwards.
There are lots of great things you can do on a rainy day with your toddler. If you have a great idea you would like to share, please email me.